"She empathetically grasps your personality and business and guides you through the system of changes in your company with such ease. Before you know it, all the processes are working. If you let her look into your finances, you will manage to organize them in such a way, there will be no more loopholes, nothing escapes your attention. She will help you think strategically and predict the future. Over coffee together, you focus on your beloved and pampered brand, which has been growing under your hands all this time. Her analytical and very kind approach with a significant dose of humor will charm you right away. Working with Katarína is truly a renaissance experience. And if you're lucky like me, she'll stay your friend. And that's the best part!"
"I recommend Katarína in the role of executive coach and the company consultant because she is systematic and has an insight and understanding of company processes and especially relationships between people. She is empathetic and can positively communicate unpleasant or personally sensitive information. But before she doeas that, she consistently and effectively asks the right questions in order to create a comprehensive picture of the problem and is able to draw out any neglected or well-hidden circumstances. Cooperation with Katarína is clearly beneficial, we have achieved the defined goals and we look forward to the continuation."
"Katarína's two-hour lecture is what you want to hear, see and know. I was intrigued by her concept of reward. She explained the conflict based on trust. True values, listening and a good mood are important to her. I am interested in organizing another meeting for my colleagues, perhaps on the topic of feedback."
"This lecture on leadership and motivation – a must have! I have known Katarína since 2023, when she entered my life twice. I attended her lecture for the first time at Lipo.ink in Liberec. The topic (The Magic of Positive Leadership) as well as Katarína's personality and professionalism made an impression on me. I therefore asked her for the same lecture for the JUST CS company, which I work for. At that time, we co-organized a regular meeting of female representatives in Jablonec nad Nisou. Everything worked out and we met for the second time. And again it was great. Katarína speaks clearly, comprehensibly and to the point. It can be seen that she has a lot of hands-on experience, and the lecture is not just a recitation of learned phrases. She knows how to engage her audience, so in the end, thanks to the questions, two hours were not enough for us. There wasn't a question Katarína couldn't handle. Since she has other interesting topics in her portfolio, I believe that we have not seen each other for the last time. I'm already looking forward to it."
"Katarina is a great mentor who, thanks to her precisely targeted questions and advice, inspired me many times and helped me realize many connections. She made me name and then solve problems that before I just walked around and pushed them away. Many of her thoughts, advice, and even criticisms have been noted down and are always in front of me so that I can constantly remind myself of them. I am very happy to have met Katarina and I definitely recommend her services to others."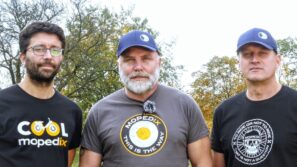 "We had a story, we had a name, we had a product at an advanced stage of development. And also a lot of visions and ideas that were constantly snowballing and fragmenting our attention. We needed to start building a brand and struggled a bit on where to start unwinding the ball. Katarina helped us to stop, breathe, ask all the relevant questions and answer them. She very quickly "put herself" into the skin of a mopedist, in addition to a lot of ideas, she definitely charged us with positive energy with her approach and helped us not to loose our sh.. right from the start. Katarina is just suprix."
"I met Katarína at a project where we both worked as consultants. Thanks to a great experience, Katarína and I agreed to use her help on the definition of the brand of my own company. During the work, we not only defined how the brand should look, but it also helped us to define improvements to internal communication in the company. What I especially appreciate about cooperation is the direct approach without "corporate bullshit". We have very effectively achieved the necessary result. I highly recommend working with Katarina."
Versatility. According to Petra and Petra from Pura Vida, this is a great added value of coach Katarina Morvai. "She has a lot of experience from the top management positions she held. When we deal with anything legal, logistical, marketing – hse always knows what to do. We communicate with one person, and we can ask absolutely anything. And if she happens to not know what to do, she will find out the information immediately or give us a contact to someone who will help us," Petra appreciates Katarína's abilities. "For us, Katarina is many top experts in one person. Psychologist, lawyer, manager, accountant, financial advisor and, among other things, a great friend," adds Petruccya.
"Katarina was able to help me in a time where my creative and professional confidence were faltering. She supported and listened without judgement, sharing incredibly useful tools that helped me manage my time better and be a better leader for my creative team. Her open and direct style was a breath of fresh air, and I really appreciated her transparency, always on point advise and really interesting conversations. Would love to keep her as a mentor for years to come! Thanks so much, girl!"
"Katarina was recommended to me as a mentor/consultant who not only knows how to ask the right questions, but who sees things that others cannot. Although I thought I had most of the areas in the company covered, during the first consultation she was able to find my blind spots incredibly quickly and efficiently! What I appreciate most about her is not only her ability to find the problem and name it, but also to give her perspective on possible solutions, or to propose some. It goes straight to the point, does not linger on "unnecessary" ballast around and is above all very effective, which suits me. I have only been working with her for 2 months, but she has already helped us change many approaches and I know that I definitely want to continue working with her. I can only recommend Katarina to anyone who is really looking for opportunities to improve, because she will help them find them!"
"Mrs. Katarina is a woman of practice. If you are expecting a philosophical discussion about the meaning of life and your business, try somewhere else. Already during the first hour of cooperation, Katarína became an imaginary member of our mini-team, although she managed to maintain the professional perspective of a mentor and coach. In the end, there were ten hours, and I believe they will continue to much more. During this time, our PATRIOT magazine jumped several light years ahead. I dare say that if it weren't for Katarina, we wouldn't be available online today, we wouldn't have a great radio show, and marketing would be going in a completely different direction. Thanks a lot and see you soon!"
"When you reach an unknown place on your way and you don't know what to do next, you need help. Someone buys you a GPS gadget, gives you a map with marked routes, or accompanies you. Katarina offers paths, she does not determine them. With our PATRIOT Magazine, we have come a long way in five years and got to a place from which we could not move forward. We couldn't, we didn't seem to see the roads. Katarina listened to us attentively, got to know our story, and then asked questions. Long, attentively, empathically. And then we looked for those routes together - she didn't give us instructions for the journey, but an itinerary of steps that need to be taken to get further. Katarina is not a tourist guide with an umbrella that you have to go to so as not to get lost. Katarina will help you find your way around and you still feel like you actually came on your own."
"Katarina has been my mentor for about half a year and I am incredibly happy for this enriching period. She helped me at a time when I was considering a change of job and wanted to think and discuss different directions. With her perspective and correctly posed questions, she was able to shift my perception of myself and my view of others and mutual relationships. Thanks to her, I became more aware of my potential, was able to separate and name odd fears and unfounded fears from the justified ones. She motivated me with her energy and cheered me on immensely. I very much appreciate her preparations, the factual tasks that she prepared for me so that they fit into my topics and so that I could see specific outputs. I appreciate her overall openness and sharing of her own experiences."
"Katarína Morvai became a mentor of our architectural studio KOGAA in 2019. At that time, we were going through a phase of growth from a small to a medium-sized company and lacked a deeper knowledge of the entity's management tools that we wanted to achieve. Both during group and individual meetings, we were assigned tasks based on the current situation we were dealing with. The results of these tasks were immediately implemented into the scope of company management. During our cooperation, Katarína became almost an internal member of the team and all the time we felt that she knew what our company needed most. Katarina is a professional mentor with a very direct nature. It led us to open cooperation and self-reflection. She does not like a superficial approach to learning. I recommend Katarina especially to professional teams that are determined to undergo this process. Katarina's most valuable feature – and at the same time her working tool – is her entrepreneurial empathy, from which she very precisely defines internal and external relationships in the corporate environment (people – people, people – processes, processes – tools, etc.). We hope that in the future, further growth and different modulations of our working environment will bring new opportunities for our mutual cooperation."
"Our architectural studio KOGAA operates in the creative environment of architecture with a connection to the construction industry. Thus, we encounter a contrast of creative processes and the limits of production or legislation. Thanks to Katarina, we analyzed the complex functioning of the company and adjusted our procedures, processes, corporate structure and made many other minor adjustments. But what was the greatest benefit was not the details and the adjustments themselves, but the overall view of the business, its functioning, ethics, even in connection with the health and mental well-being of those who are responsible for the company. Her directness and clear questions are very effective and ultimately very liberating. After completing a longer period of work with Katarina, I am convinced that it does not matter the size whether it is a start-up or an established company, because the presence of a mentor can fundamentally help the company to move forward and develop. And that should be an omnipresent goal."
"Hello, My name is Jiří Laštůvka. In our company we design and produce original women's fashion. Katarina's experience, overview and mentoring were really beneficial for us. Her obvious experience worked, so she very quickly found and identified key complications that we didn't see from inside the company. At the same time, she guided us through a difficult journey, when it was necessary to remove or minimize these complications. Thanks to this, the operation of the company has stabilized and it has another opportunity to develop. It even gave rise to new possibilities that we hadn't seen before (or didn't want to see). For me specifically, the biggest benefit was personal coaching with a focus on financial flows and company affairs. With her supervision, new rules and principles of operation were set. What I really appreciate is the opportunity for discussion and the ability to empathically understand the specifics of our company. We definitely want to use its services in the future."